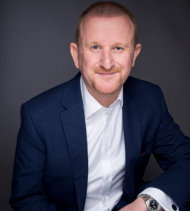 Having launched our new Adventurous Leadership programme, in this blog we're focusing on one of the most important leadership qualities: emotional intelligence. Our Marketing Intern, Gabriela, took the opportunity to interview one of JFA's trusted associates, Pete Colby, about his experiences and views of emotional intelligence in the workplace.
Pete Colby, Director of Pragmatism Ltd, has experienced different levels of emotional intelligence in numerous people. Beginning as a trainee dental technician at the age of 16, to working as a trainee accountant, recruitment consultant, manufacturing and factory manager and spending a decade as an HR professional at Rolls-Royce, Pete has a huge amount of people leadership experience and recognises the importance of emotional intelligence in leaders.
When asked to define emotional intelligence, Pete did it in two simple words: "Getting people". His experience in a number of different industries and roles has helped him to become more empathetic to people issues:
"I think there is an intrinsic link between emotional intelligence and empathy. I have not just been a HR person but also a manufacturing and factory manager – and the reason I did that [successfully] was having more empathy from being a HR person. Because once you do an actual job of somebody you're advising, you get a different insight, and you see things from a different angle. Therefore, you are much more empathetic to them, to their situations and their challenges and that makes you more emotional intelligent as a leader."
Having experience in a wide range of industries has also exposed Pete to all spectrums of emotional intelligence in leaders in many industries. For instance, he recognises that it can be quite challenging for a lot of leaders to demonstrate emotional intelligence in technical organisations, including finance and engineering, but even teaching as well.
"If you take Rolls-Royce for example – a very highly technical industry; you have very intelligent people. But, sometimes, intelligence with all the capacities in our brains – and sometimes high-level intellectual people don't always have a high level of emotional intelligence when it comes to 'people issues'. Emotional intelligence is really important, and it can be quite challenging for [leaders] in those type of roles and industries."
Pete believes that in every aspect of leadership – whether it is employee engagement or productivity improvement – emotional intelligence plays an important role. This is evident on how he runs his business and the core values that it's built upon:
"The reason my business is called Pragmatism is because I fundamentally don't believe that any policy, law or process on its own can deliver anything because you've got to have that pragmatic leadership. That pragmatic leadership means that you've got to have emotional intelligence to make pragmatic decisions. Without doing that, you'll never be a leader.
It's the reason that most issues I get involved with as a mediator come about because there has been this lack of emotional intelligence and just being able to make rational decisions at the right time early on. That culminates in lots of disputes, issues, low productivity and more sad cases because of the lack of emotional intelligence."
For Pete, leadership is all about emotional intelligence. His experience has shown that without it, you cannot lead people effectively. Even the most technical and automated industries still rely on people. It goes to show, that since leadership is all about people, emotional intelligence should be at the core of every leadership style in order to really understand and build good relationships with other people.
Interview conducted and Insight written by JFA's Marketing Intern, Gabriela
9th September 2021